Google Talk turns one year old tomorrow and decided to celebrate with some upgrades and a new Egg Easter.
If you change your computer date to 24/08 you will realize some change on the image shown on top of the program. And see what most Gtalk users will see tomorrow.
It will be something like this: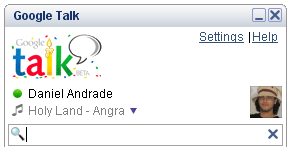 Well, I love Gtalk and have used it for some months now. And One thing I can tell, it's way better then MSN, much more simple and efficient.
So HAPPY BIRTHDAY GOOGLE TALK!