After readying this great tutorial, of how to clone your HD using a mac, I decided to write one tutorial showing how to do this if you are a windows users.
Lately I've been quite angry with my windows. So here's a very easy and fast way to restore your windows settings without having to reinstall windows all again.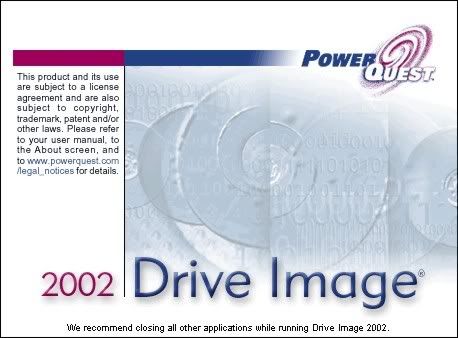 PowerQuest is famous for its extremely useful Partition Magic, but the company also developed other very good programs. One of these programs is Drive Image 2002. There isn't any better exact backup of your system then cloning your HD or partition: and that's exactly what DI2002 does, he creates an exact partition of what you want.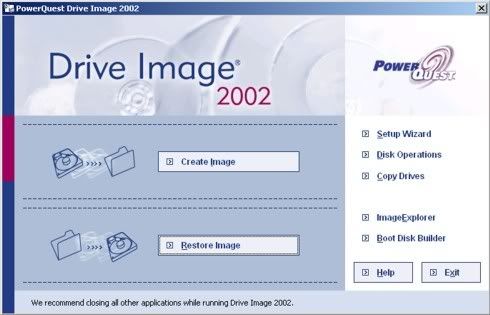 DI2002 has a very easy interface, and it's quite secure (it checks the trustworthiness of the data, allows to set passwords for the images, etc…). One of the biggest differences from the old version is that now the program can practically make everything without leaving Windows – except making/restoring the image of the partition where Windows is installed (in this case DI2002 leaves Windows to make the image/restoring and then returns). In any other partition, everything is made inside Windows. There's also the option to make a boot disk for restoring, if you can't login windows…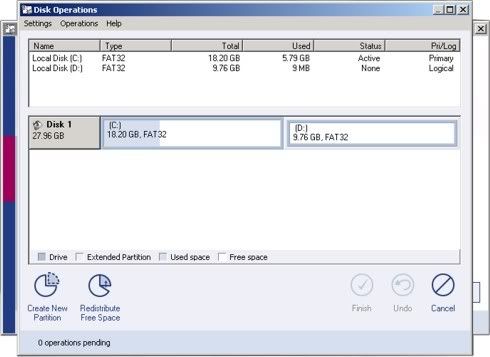 DI2002 also can partitioned your HD: it's not Partition Magic but handles through basic tasks, making it easier to save the image direct for a backup partition. DI2002 can also save images in CDs and DVDs, Zip Drives, among others supported, and you can also save/restore over LAN, saving and getting date from other computers.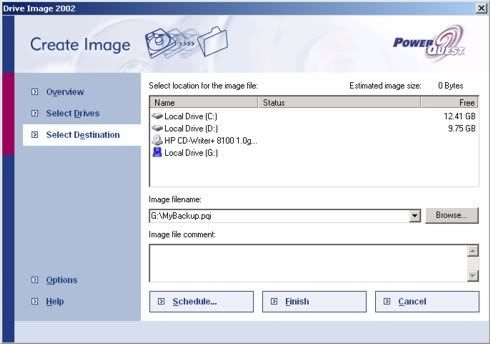 It isn't right to make a backup copy in the same hard drive in talking about security (if something goes wrong with your HD, your backup will be also lost), you will be safe against software problems but not hardware. That's why the best options are other HDs, CDs, DVDs and other drives. You can also schedule your backups daily, weekly or monthly.
DI2002 works on DOS, Windows 95/98/Me, Windows NT 4.0 Workstation, Windows 2000 Professional and Windows XP. And supports FAT, FAT32, NTFS and Ext2 (Linux).
Creating and Restoring
There's two kinds of backup: From a user specific files or HD cloning. DI2002 is dedicated in making an exact clone of the HD, building an perfect version of the HD, with all files, configurations and registries, on the exact moment the file was created. You can't create an image from specific files/dirs (that's why backup programs are made). It only supports complete partition images. That's why its always good to make an partition (on windows C:\) just for programs and installation files.
When making the image, you should take care to see if all programs and windows are running right, the way you want (with the newest patches and everything). After that we'll start making our image.
It's very easy to navigate thought the program's interface: To create an image you just click on "Create Image" (if you want to restore "Restore Image). On the next screen, "Select Drives", and choose Disk/Partition in witch will be copied and then "Select Destination" and choose your image will be saved: you can make any name and comment on it.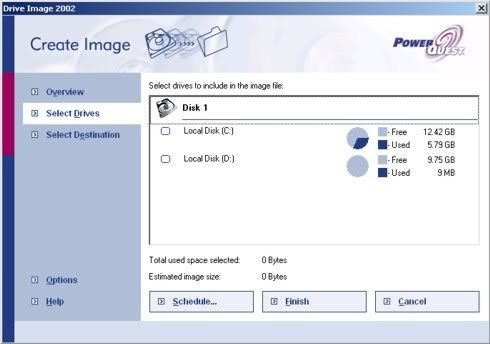 Clicking in" Options" you will be able to choose the level of compression of the created image, password protection, and separate the image in fixed sizes volumes (650MB for CD-R/RW, 4.7GB DVD-R/RW, etc…).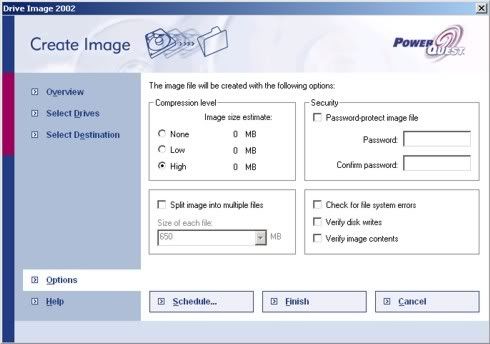 After this, just click in Finish and wait until DI2002 creates the image in the selected place.
The restoration is also very simple: click in "Restore Image" and selects the image file and where it will be restored. There's an option called "Restore to Original Locations" where it will restore in the exact same place where the image was made (for example, if you made an backup of C:\, it will restore on C:\). If you don't use this option, you can restore anywhere.
If there's any problem on Windows that it's not working, you can use a Rescue Diskettes that can be made while DI2002 is being installed, or after clicking in "Boot Disk Builder" or even on "Create Rescue Diskettes", on windows main menu (inside DI2002 folder).
Two boot disks will be created: Boot and the other with the DI2002 to DOS. Using this you simply boot using DI2002, and then when asked you use the requested image file.
DI2002 to DOS is very clear, just fallow the same simple steps: "Restore Image", select the image place and the place to restore. Done! Now you reboot (without the boot disk of course) and there's your computer working the same way as before 😉